SALINITY REFRACTOMETERS
SALINITY REFRACTOMETER (ECONOMY):




Here's an automatic, temperature-compensated salinity refractometer. It has automatic temperature correction from 50-86°F (10-30°C) and a dual scale reading 0-100 ppt and 1.0000-1.070 specific gravity. Each refractometer is tested to ensure an accurate instrument, even at this low price. Includes Hard Shelled Case.



| | | |
| --- | --- | --- |
| #SR5: | Salinity Refractometer (Economy) | $93.00 |




REFRACTOMETER CASE (HARD SHELLED):




Fits all handheld VEE GEE refractometer models listed below



| | | |
| --- | --- | --- |
| #43000-00100: | Refractometer Case (Hard Shelled) | $10.95 |




REPLACEMENT COVER PLATE for VEE GEE REFRACTOMETERS:




Fits all handheld VEE GEE refractometer models listed below



| | | |
| --- | --- | --- |
| #STX-CPA: | Refractometer Cover Plate | $15.50 |



VEE GEE REFRACTOMETERS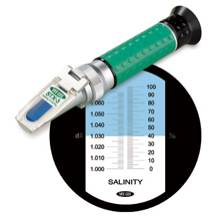 The "X" Series Handheld Refractometers are exceptionally simple to operate and provide a quick, accurate measurements for the concentration of nearly any aqueous solution.

Easy to use: Operation consists of placing 1-2 drops of the sample on the prism, closing the daylight plate over the sample, then looking through the focusable, cushioned-rubber eyepiece for the readings.

Accurate: Featuring the largest, easiest-to-read scale available with clear, sharp figures, screen shading and incredible contrast. These features significantly enhance overall accuracy. All units feature rubber grips on the body, which block the transmission of hand heat to reduce temperature errors.

Compact and Portable: The small size of the X-series models allows then to be used anywhere. Tool-Free Calibration: The "Zero-Ring", which is exclusive to the "X" Series, eliminates the hassle of using a separate tool for calibration. Simply place a few drops of distilled water or liquid standard (R.I. oil for sucrose solution) on the prism, turn the built-in "Zero-Ring" until the shadow-line is at the correct value of the liquid, and secure the set-screw.

Durable: The "X"-Series models feature rugged construction to provide years of reliable use. The prism is mounted in an all-metal housing which allows the sample and prism to reach temperature equilibrium quickly. Also feature non-roll stands to ensure the once the units are placed on a table or bench top, they won't be prone to roll off the surface.

Side Selection: Chose from Brix, Salinity, Refractive Index and Coolant (freezing points of Ethylene and Propylene Glycol, Battery Charge Level).

Automatic Temperature Compensation (ATC): Models BTX-1, BTX-20, STX-3, CTX-1 and CTX-2 feature ATC which frees the user from having to re-calibrate in work environments with large temperature swings. The effective compensation range is 10-30C.

Warranty: One Year.

Supplied With: Soft Shelled Storage Case, Plastic Transfer Pipet, Instructions.
Vee Gee - "X" Series Refractometers - Made in China

Catalog
Number
Model
Scale
Range
Resolution
Accuracy
ATC
Temp.
Dimensions
Weight
(grams)
Unit
Price

43036

Salinity


0-100 ppt


1 ppt


1 ppt


Yes

10-30°C

40x40x185

285

$152.00

Specific Gravity of
Sea Water

1.000-1.070

0.001

43001

BX-1

Brix (Sugar)

0-32%

0.2%

0.2%

No

NA

40x40x165

240

$143.00

43002

BTX-1

Brix (Sugar)

0-32%

0.2%

0.2%

Yes

10-30°C

40x40x165

240

$156.00

43003

BX-2

Brix (Sugar)

28-62%

0.2%

0.2%

No

NA

40x40x150

235

$143.00

43005

BX-3

Brix (Sugar)

58-92%

0.2%

0.2%

No

NA

40x40x140

230

$143.00

43007

BX-4

Brix (Sugar)

45-82%

0.2%

0.2%

No

NA

40x40x140

230

$143.00

43008

BX-10

Brix (Sugar)

0-10%

0.1%

0.1%

No

NA

40x40x185

285

$143.00

43011

BX-20

Brix (Sugar)

0-20%

0.1%

0.1%

No

NA

40x40x185

285

$143.00

43012

BX-20

Brix (Sugar)

0-20%

0.1%

0.1%

Yes

10-30°C

40x40x185

285

$156.00

43015

BX-50

Brix (Sugar)

0-50%

0.5%

0.5%

No

NA

40x40x145

225

$143.00

43017

BX-90

Brix (Sugar)

0-90%

0.2%

0.2%

No

NA

35x35x200

650

$549.00

43053

NDX-1

Refractive
Index (nD)

1.333-1.520

0.001

0.001

No

NA

35x35x200

650

$559.00

43055

NDX-3

Refractive
Index (nD)

1.425-1.520

0.001

0.001

No

NA

40x40x140

230

$143.00

43062

CTX-3

Freezing Point of
Propylene Glycol

-50 to 0°C

1°C

1°C

Yes

10 to 30°C

40x40x165

240

$156.00

Freezing Point of
Ethylene Glycol

-50 to 0°C

1°C

1°C

Specific Gravity of
Battery Acid

1.15-1.30

0.01

0.01

43064

CTX-2

Freezing Point of
Propylene Glycol

-50 to 32°F

2°F

2°F

Yes

10 to 30°C

40x40x165

240

$156.00

Freezing Point of
Ethylene Glycol

-60 to 32°F

2°F

2°F

Specific Gravity of
Battery Acid

1.15-1.30

0.01

0.01